WHAT DOES REGLEARN DO FOR THE SAP Learning solution?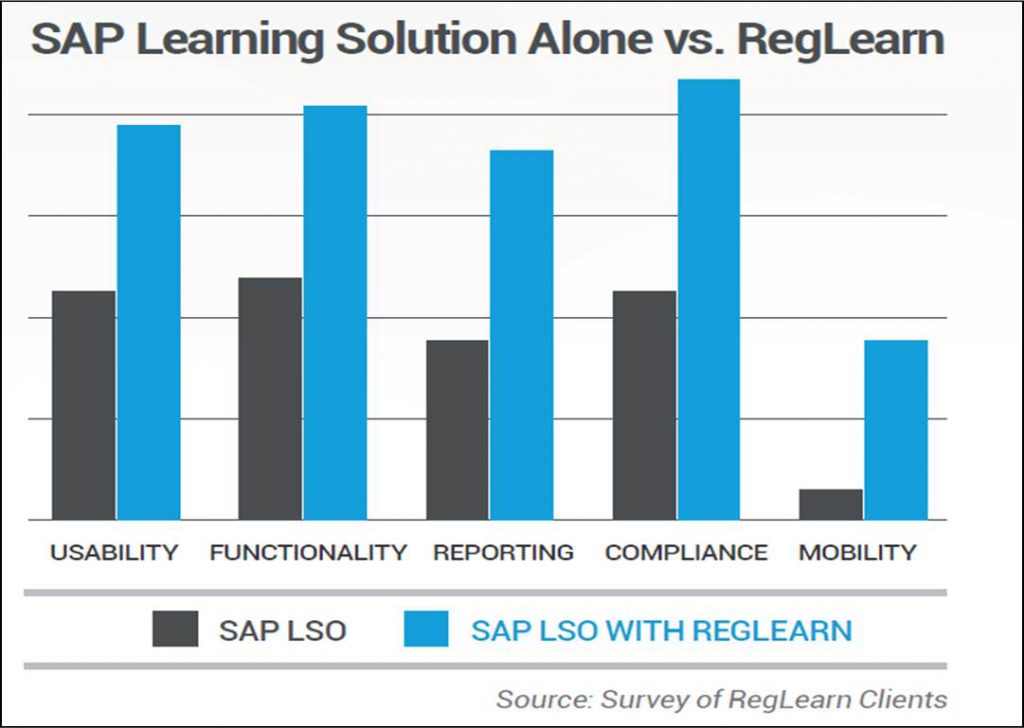 RegLearn greatly expands the functionality, improves the usability and extends the reporting capability of the SAP Learning Solution (LSO). It is a cost-effective answer for customers that have either implemented SAP LSO and still have functionality gaps, or are implementing SAP LSO and want to reduce the cost and time commitment of custom development typically required to enable the solution to meet their business needs.
ADD-ON FOR SAP LEARNING SOLUTION
SAP Enterprise Learning provides a proven solution to integrate business processes, content development, and the delivery of learning within your organization in an environment that is fully integrated with the SAP HCM solution. To complement SAP Enterprise Learning and improve regulatory training process management, hyperCision delivers a comprehensive add-on solution: RegLearn. Developed to address the unique needs of regulated industries such as Life Sciences, Energy, and Manufacturing, RegLearn enables organizations to meet the challenges of industry and government agency requirements related to training and certifications. RegLearn allows training professionals to proactively and effectively manage training compliance and ensure that their organization meets its regulatory obligations. RegLearn provides a flexible, scalable solution to monitor both internal compliance requirements as well as the requirements of regulated industries.
Easily maintain thorough and accurate records of regulatory training.
Ensure that employees remain in compliance through timely notifications of updated training requirements and course revisions.
Improve usability for stakeholders through user interfaces designed specifically to support the efficient management of training requirements.
Leverage industry best practices.
REGLEARN FEATURES
Learner Groups – provide training administrators with the flexibility to easily assign training en masse to the right target audience.
Structured On-The-Job (OJT) Training – define, assess and report on training that occurs in the field or on the shop floor.
Revision Tool – automate all of the steps required for course version management and notify learners when learning content has been updated.
Certification Management – track and efficiently maintain the compliance of an employee or contractor with a series of related training requirements.
External Learning – enable employees to update their training history with external training they have taken outside the company.
Learner Portal Enhancements – give learners the ability to see their entire training plan in one simplified view and easily identify their top training priorities.
Enhanced Follow-Up – enable users to enter and report on paper-based test scores.
Validity Period Enhancements – date rounding, rolling validity periods and fixed dates for all learners delivers increased flexibility in determining the expiration and due dates of training requirements.
Roster Tool – enable training administrators to easily perform mass loads of training completion data after the fact.
Training Admin Checklist – automate the management of logistical support for training.
RegLearn Manager – provide enhanced MSS capabilities and a training compliance dashboard with alerts and graphical views.
Skillfinder – make searches for staff qualifications/certifications simple (also available via mobile app).
Contractor Training – efficiently manage training for external personnel.
Learning Paths – guide employees through a structured long-term learning path with options to enforce sequencing, timing and minimum requirements.
Additional Reports and Training Metrics – make it much simpler to track training compliance.
And more……