EXPERIENCE THE JOY OF SPRING!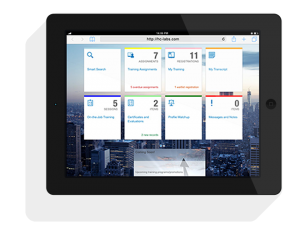 The user interface of your organization's LMS is a key factor in determining if your learners feel a positive – or negative – emotional connection to the solution you've implemented to deliver learning and development activities to them. It doesn't matter how much great functionality is available at their fingertips if your learners aren't motivated to use it.

Rich Shoeneberg,
Managing Director, HCLabs
SPRING provides learners with a user-friendly, intuitive interface for SAP's Learning Solution designed to improve end-user adoption of your learning management system. The user interface (UI) is also completely mobile-enabled, so whether an employee or contingent worker accesses the Learning Portal via their PC, a tablet or smartphone, the UI will adjust automatically to fit their screen and deliver a consistent experience across all devices.
Best-run organizations understand that investing in the learning and development of their employees isn't a luxury. SPRING provides SAP Learning Solution customers with a simple experience that will vastly increase user satisfaction and maximize the return on their LMS investment.
Since the global deployment of SPRING, we have received very positive feedback from the business on the UI(s enhanced functionality, its look and feel, and the overall intuitiveness of the solution. SPRING will certainly enable us to do a better job of supporting Cameron and OneSubsea's ongoing learning and development needs.

Aaron Roach,
Learning Solutions Manager,
Cameron International
SPRING FUNCTIONALITY & ENHANCEMENTS
SPRING provides users with a fresh start to their learning and development activities by adding a great deal of new functionality to the Learning Portal. Some of the latest enhancements include: