SIMPLE ATTENDANCE MANAGEMENT INTEGRATED WITH YOUR LEARNING MANAGEMENT SYSTEM
RollCall works seamlessly with your LMS to automate attendance management. With RollCall, attendance is directly recorded and validated in your Learning Management System. RollCall provides both web-based and mobile instructor interfaces to adapt to organizational variances in badge system requirements. RollCall integrates with a variety of badge scanning technologies. Our product has established integrations with SAP SuccessFactors LMS and Workday.
RollCall
Automatically updates attendance records captured through badge scanning, RFID or other means, into your LMS.

Makes collecting in-person attendance an easy instructor activity by providing mobile attendance management access for field instructors, supervisors, and others who can't easily access your LMS.
Streamline real-time attendance recording
Reduce duplication of work

Supports attendance management in both traditional and non-traditional classroom settings

Eliminate paper-based systems
Get rid of awkward manual processes

Eliminates the need for spreadsheets, hardcopy rosters, and manual processes for attendance administration

Improve data quality
Generate up-to-date training compliance statistics and reports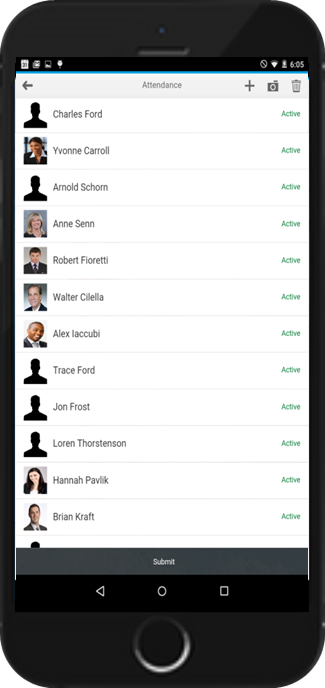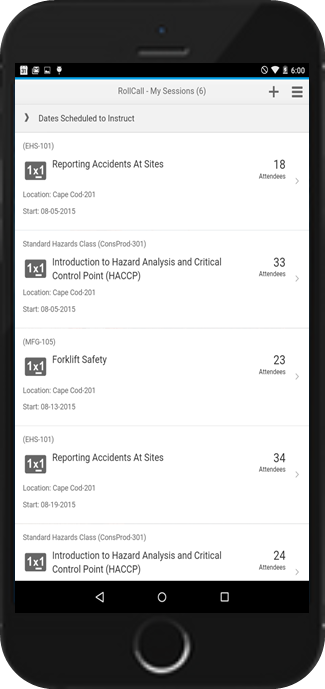 HOW ROLLCALL WORKS
RollCall provides a mobile application for field instructors, supervisors and other learning administrators to select scheduled or unscheduled courses for attendance collection and management. ID badges are scanned by RollCall and real-time coordination between your badge ID system and your LMS validates the learner. When instruction is complete and reviewed, the instructor or administrator simply confirms attendance and it is automatically propagated to the LMS, showing up as learning history.